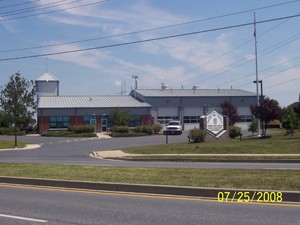 Location: Frederick County, Maryland
Project Description:
Engineering, surveying and land planning for the construction of a new fire station facility along New Design Road in the Westview Corporate Campus Subdivision in Frederick County, Maryland. This project was a two-phased building construction project totaling approximately 11,000 square feet of administration offices, meeting/activity rooms, bunk rooms and three garage bays. Design services included grading, drainage, sediment control, stormwater management, connection to public utilities and coordination with Allegheny Power due to large overhead electric transmission line with one hundred foot easement through property. Stormwater management quantity was waived for this property, but stormwater quality was provided by a sand filter facility. Entrance improvements were required along New Design Road, along with a new median break with left turn lane. Prepared site work cost estimates and specifications and attended pre-bid and progress meetings. Plans for this project were routed to all Frederick County agencies for approvals and presentation was made before the Frederick County Planning Commission. Responded to Contractor Requests for Information (RFIs) and assisted architect in preparation of addenda/change orders as needed.
Participants / Reference:
Fred. County Dept. of Public Works
Tom King, A.I.A.
301-662-8611