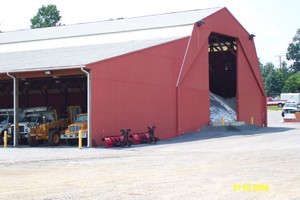 Location: Frederick County, Maryland
Project Description:
Engineering, surveying and land planning for the construction of a new salt storage barn along U.S. Route 40 at Pleasant Walk Road in Frederick County, Maryland. This project involved the construction of a twelve thousand square foot wooden storage barn with a large, lean-to canopy for equipment and vehicular storage. Fox & Associates, Inc. worked with Associated Engineering Services, Inc. on this project under AESI's IDQ contract with Frederick County. Design services included grading, drainage, sediment control and stormwater management. Stormwater management design included quantity and quality control measures. A separate water quality facility was constructed upstream of the main stormwater management area to aid in the capture in contaminated runoff from the "hot spot" project. Prepared site work cost estimates and specifications and attended pre-bid and progress meetings. Responded to Contractor Requests for Information (RFIs) and assisted architect in preparation of addenda/change orders as needed. Plans for this project were routed to all Frederick County agencies for approvals and presentation was made before the Frederick County Planning Commission.
Participants / Reference:
Frederick Co. Dept. of Public Works
Dan Rogers, P.E.
301-696-2931