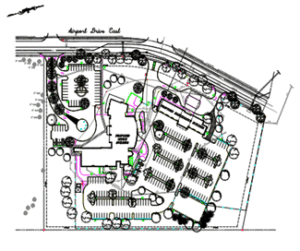 Location: Airport Drive, Frederick, MD
Size: 8.70 Acres
Project Description:
Provided complete Site Planning and Engineering services for an $ 18.1 million dollar, 63,000 sq. ft. office building and 6,000 sq. ft. vehicle maintenance building for the combined use of the MD State Police, Frederick Co. Police and Frederick Co. 911. Extensive project coordination/management with the owner, architect, review agencies and utility companies throughout design and construction.
Site Considerations:
Effectively designed segregated visitor and employee parking areas necessary for proper security, car, van and bus circulation, and fleet refueling. Successfully negotiated the approval of a communications tower with the Board of Zoning Approval. Designed and permitted a large, cost-effective stormwater management facility. Developed construction drawings, cost estimates, technical specifications, and provided bidding and construction administration services.
Participants / Reference:
Frederick County Commissioners Mr. David Ennis 301-600-1688  
Download Project Description (PDF) »