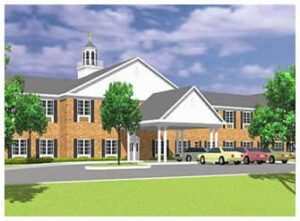 Location: Quinn Orchard Rd.
Frederick, MD
Size: 56.56 Acres
Project Description:
Phased development: Retirement Assisted Living Facility, 444-beds, 282,420 sq. ft.
Handicapped accessible walk system, courtyards and exercise paths
235 parking spaces, Child Care and Administrative Offices
Special Site / Design Considerations:
Steep topographic constraints, drainage and stormwater management design
Off-site re-chlorination station to improve water quality
2500 lineal ft. of offsite water line, including an expansive river crossing
Reuse of an existing building for Office and Marketing uses
Facilitated passage of setback and parking space variance before the Zoning Board
Participants / Reference:
Country Meadows Associates, Inc.
830 Cherry Drive
Hershey, PA 17033
717-533-2474
Download Project Description (PDF) »