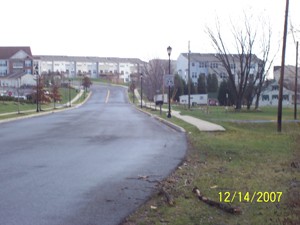 Location: Frederick, Maryland
Project Description:
Fox & Associates, Inc. prepared complete contract documents ready for the relocation and reconstruction of Rocky Springs Road in the corporate limits of the City of Frederick, Maryland.
The project limits extended from Christophers Crossing to Tuscanney Drive a distance of approximately 1,500 feet.
Existing Rocky Springs Road was, generally, two lanes with no shoulder and was located within the floodplain of a tributary to Carroll Creek. This section of roadway is classified as a City of Frederick collector street providing access to a multi-family section of the Whittier subdivision and to route traffic thru the subdivision.
The proposed improvement to Rocky Springs Road consisted of removing the existing roadbed and relocating and constructing a new City standard roadway to 32 feet  in width and in order to improve the operating characteristics of the facility.
Site Considerations:
This project required MDE approval to the existing and developed floodplain conditions for Carroll Creek. As part of the developed conditions study Fox was also able to successfully permit the placement of fill in the floodplain in order to construct the relocation of Rocky Springs Road.
In addition to the environmental challenges, this road relocation required and extensive maintenance of traffic and detour plan to route traffic around the construction site which required coordination with the City of Frederick and Frederick County.
Another design consideration was maintaining access to the existing Romsberg residence situated on the west side of Rocky Springs Road during throughout the duration of construction.
Participants / Reference:
Ausherman Development Corp. Jeremy Holder 301-620-4470  
Download Project Description (PDF) »