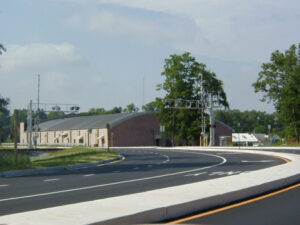 Location: Berkeley County, West Virginia and Washington County
Project Description:
Through the years, Fox & Associates, Inc. has gained extensive experience in design and permitting services for rail road roadway and utility bore crossings as well as for the construction of railroad spurs to serve industrial manufacturing clientele. Those permits have been obtained from several different railroad companies including but not limited to CSX, Western Maryland Railroad, Pennsylvania Railroad and Norfolk Southern Railroad. Below please find a list of past projects and types of permits obtained.
Carriage Hill Residential, Washington County, Maryland:
At Grade Roadway crossing
36″ Bore Casing for 8″ Sewer & 4″ Force Main
24″ Bore Casing for 16″ Waterline
Fox Croft Village – South, Martinsburg, West Virginia:
48″ Bore Casing for 12″ Waterline Crossing
Foxleigh Meadows Residential, Hagerstown, Maryland:
48″ Bore Casing for 12″ Water Main
Interstate Industrial Park, Washington County, Maryland:
36″ Bore Casing for Sewer Main
Massey Boulevard, Washington County, Maryland:
New Arterial 4-Lane Divided Roadway Crossing
I-70 / 81 Industrial Park, Washington County, Maryland:
Antietam Paper Company, Washington County, Maryland:
Brookfield Subdivision, Berkeley County, West Virginia:
Bore Casing for 8″ Sewer Main