Location:  Washington County, Maryland
Size: 46 Acres
Project Description: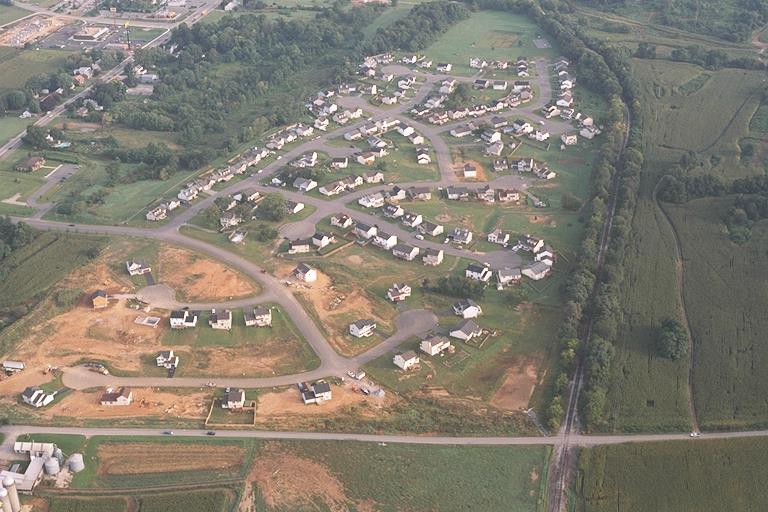 Fox & Associates, Inc., has performed subdivision design, site planning, engineering and construction stakeout development consisting of 53 single family and 146 duplex lots in Phase 1, on 46 acres. Approximately 197 acres remain to be developed.
Cross Creek offers a park area with recreational facilities and open space and walking trails throughout. A small portion of the development is set aside for commercial development. Presently there is a Teamsters Union office on one of the commercial lots.
 Special Site/Design Considerations:
Fox & Associates, Inc. prepared a concept plan for the first phase of Cross Creek utilizing the cluster concept which allows the lesser lot sizes and the balance of the required lot area is made up in open space.
This concept provides the residents with a larger amount of open space to use jointly. A home owners association was established for maintenance of the open space.
The preliminary plans were prepared by Fox & Associates, Inc., along with the final improvement plans. The final plats were then prepared for the entire residential portion of the development, along with the design of the amenities to be placed in the park areas.
In addition as part of the standard services that Fox & Associates, Inc. provides, the liaison with approving agencies to obtain approvals as well as representing our client at public hearings was also provided.
Fox & Associates, Inc. prepared the improvement plans for the streets, water and sewer lines as well as two regional stormwater management structures.
Improvement plans for the entrance and widening of Route 65 were also prepared to allow for deceleration and acceleration lanes and bypass lanes.
We provided the main control layout of the streets for the contractor's use as needed to construct the utilities and roadways.
Fox & Associates, Inc. has performed lot and house stakeouts for the buildings, together with wall checks and final location surveys for the Mortgage companies. In addition we have prepared easement plats and descriptions for various offsite easements and descriptions for the street acceptance by Washington County.
 Participant/Reference:
Park Development Inc.
Hilton Smith
50 Summit Ave., 7th Floor
Hagerstown, MD 21740
301-733-4365