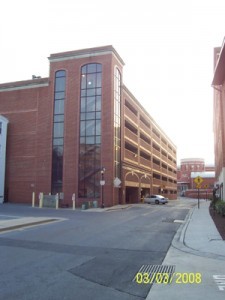 Location: Frederick City, Maryland
Project Description:
Fox & Associates, Inc. teamed with Callas Construction and Helbing Lipp, Ltd. to develop the final site plan and improvement plans for the 550 space parking deck located on East Patrick East Street in the corporate limits of Frederick, MD. The proposed parking lot consisted of 550 parking spaces and access drives from East Patrick and North Market Street's.
Consulting services consisted of preparation of boundary and topographic survey, final site plan for planning commission review and site engineering. The design included access and circulation, storm drainage facilities, water and sewer service connections, curb & gutter, sidewalk, landscaping and lighting improvements.
Special Site / Design Considerations:
The location of the parking deck created some unique design challenges. The parking deck is situated immediately adjacent to the existing historic structures adjacent to East Patrick Street to the north and North Market Street to the west and the Carroll Creek Flood Control Project to the south and required precise location of the adjoining buildings and coordination of the proposed building placement.
Access and circulation were critical to the function of the parking deck. Coordination with the Carroll Creek Project was essential to plan for future pedestrian access to the parking deck. The relative elevation to the Carroll Creek Flood Control conduit required a stormdrain pump station.
Topographic conditions as well as the presence of existing utilities created significant site development challenges. Access to the existing business's immediately adjacent to the project could not be interrupted and was maintained throughout the duration of the construction.
Participants / Reference:
City of Frederick
Steve Johnson
301-600-1429