Location: Berkeley County, West Virginia
Size: 396 Acres
Project Description: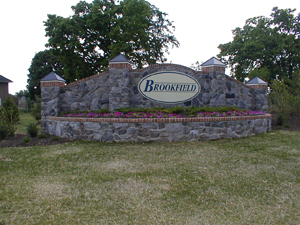 Fox & Associates, Inc. performed all site survey, engineering and subdivision services for Brookfield Subdivision, Berkeley County, West Virginia. Brookfield is a 496-unit mixed use residential community on 396 acres just off Broad Lane (Route 11/2) near Marlowe.
Design of this community was challenged with protecting and preserving a multitude of environmental features such as forested steep slopes, several streams, non-tital wetlands and the Potomac River Floodplain. Other than several stream crossings for roads and utilities, the site environment features were preserved and utilized to create an open and aesthetically pleasing site design. These features included placement of permanent protective easements on over 100 acres of the forested steep slopes and creation of a large recreational park and company facility in the floodplain of the Potomac.
Fox performed all civil engineering, surveying and subdivision services for construction of Brookfield. We prepared all necessary agency review packages and submitted plans and plats to Berkeley County P.S.W.D., Berkeley County P.S.S.D., Berkeley County Planning, Berkeley County Engineering, West Virginia Division of Highways and West Virginia D.E.P. West Virginia D.E.P. approvals included water and sewer construction permits in addition to the Groundwater Protection Plan (GPP) and the NOI NPDES permits.
Fox obtained permits from Winchester and Western Railroad for a sewer main bore crossing and from the U.S. Army Corps of Engineers (Pittsburgh) for construction in the 100-Year floodplain as well as the roadway and utility stream crossing.
Special Site / Design Considerations:
2,700 Linear Feet of Boulevard Entrance Road
Coordination with the Mechanical / Electric Engineer for the design of six sanitary sewer pump stations.
Coordination of removal of an existing sewer treatment plant in an adjoining community.
Wetland Delineation and mitigation design.
Participants / Reference:
Panhandle Homes of Berkeley Co. Inc.
Mr. Allen Henry
304-274-1920