Fox & Associates, Inc. has performed numerous boundary surveys and American Land Title Association (A.L.T.A.) surveys.
Services for a boundary survey normally include courthouse research and preparation of a deed composite showing subject property and surrounding properties; field surveys to locate property corners and property line evidence. Then preparation of a working drawing and resolution of boundaries; preparation of final certified plat and metes and bounds descriptions; and stakeout of corners is performed in sequence.
An A.L.T.A. survey includes the above services and the location of all improvements on the property; location of encroachments if any; review of the title commitment; and location of any easements that affect the property; or the certified title drawing.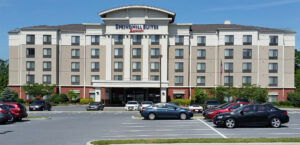 Recent Boundary & A.L.T.A. Surveys
Valley Mall, Hagerstown, MD. Boundary and A.L.T.A. survey on 76-acre parcel and we have updated the A.L.T.A. survey three times.
Country Club Mall, Lavale, MD. Boundary and A.L.T.A. survey on 60-acre parcel and updated the A.L.T.A. survey two times.
McDonald's Corporation. Boundary and A.L.T.A. surveys for the following restaurants:
U.S. 522 South of Berkeley Springs, WV
Sharpsburg Pike, MD Route 65 Hagerstown, MD
Maugans Avenue, Hagerstown, MD
WV Route 45, Martinsburg, WV
MD Route 140, Thurmont, MD
Dual Highway, Hagerstown, MD
Pizza Hut, Martinsburg, WV. Boundary and A.L.T.A. survey for parcels along North Queen Street Extended and Viking Way.
Sheffer Farm, Middletown, MD. Boundary and A.L.T.A. survey for parcel on U.S. Alt. 40, Marker Road and Old Middletown Road.
Matthew Moving Company, Montgomery County, MD. Boundary and A.L.T.A. survey for parcel on Comus Road and Route 355.
State Farm Insurance Company, Frederick, MD. Boundary and A.L.T.A. survey for new headquarters on Trading Lane near Route 355.
Terraces at South Mountain, Myersville, MD. Boundary and A.L.T.A. survey for parcel on Monument Road.
Emmitsburg East Industrial Park L.L.C., Emmitsburg, MD. Boundary and A.L.T.A. survey for parcel on Creamery Road.
Griffin Farms, Frederick County, MD. Boundary and A.L.T.A. survey on 244 acres located on Ballenger Creek Pike (Route 351).
Canada Hill, Myersville, MD. Boundary and A.L.T.A. survey on 60 acre parcel located on Canada Hill Road at Church Hill Road.
State of Maryland Dept. of General Services. Boundary survey of numerous properties acquired for the Appalachian Trail
Cross Point Shopping Center
A.L.T.A Survey Massey Blvd
Hagerstown, MD
Artz Farm
Boundary & A.L.T.A Survey
Rench Road, Hagerstown, MD
Frederick & Hagerstown Airports
Boundary Surveys
Pangborn Corporation
Boundary & A.L.T.A. Survey and several updates.
Hagerstown, MD