Fox & Associates, Inc. has performed construction stakeout on numerous projects ranging from simple home stakeouts to full-scale layout of the buildings and the complete infrastructure.
Services have included building control (pylons and column lines), storm drain, sewer, water, parking lots, access roads, curb and gutter, overall grading and storm water management ponds.
We have also done stakeout for major highways, bridges, railways, power transmission lines and pipelines.
Outlined below are some representative projects we have completed: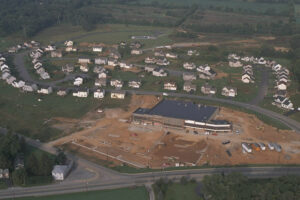 Valley Mall, Hagerstown, MD
Central Motors Plant, Martinsburg, WV
Paramount Elementary School, Hagerstown, MD
Eastern Elementary School, Hagerstown, MD
Martinsburg High School, Martinsburg, WV
St. James Village North, Hagerstown, MD
Frederick Airport, Frederick, MD
Herald Mail, Co., Hagerstown, MD
U.S. Route 48-National Freeway
CIA Project, Langley, MD
Veterans Hospital, Martinsburg, WV
Torpedo Factory, Alexandria, VA
Vietnam Veterans Memorial, Washington DC
Whittier PND, Frederick, MD
Silo Hill, Emmitsburg, MD
Ashley Subdivision, Myersville, MD
Deerwoods, Myersville, MD
Cambridge Farms, Jefferson, MD
Fredericktowne Mall, Frederick, MD
Bio-Whittaker, Inc., Walkersville, MD
North Crossing, Frederick, MD
Clover Ridge, Frederick, MD
Green Hill Manor, Adamstown, MD
Saber Ridge, Myersville, MD
Brookfield, Marlowe, WV
Hammonds Mill, Martinsburg, WV
Trout Run, Inwood, WV
McCauley Crossing, Inwood, WV
Mountain Crest, Martinsburg, WV