Location: Washington County, Maryland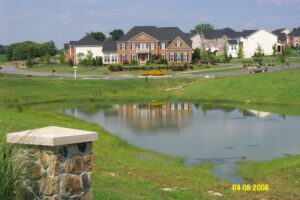 Project Description:
Elmwood Farms is an upscale Single Family community located on Route 68 near Williamsport in Washington County, Maryland. This project presented Fox with some design challenges related to State and County highway improvements as well as environmentally sensitive design related to floodplain and wetlands.
Site Considerations:
The placement of one of the four planned stormwater management facilities was located in a mapped FEMA / FIRM one hundred year floodplain. For construction to occur, Fox was required to obtain MDE / ACOE permits, a Condition Letter of Map Revision (C.L.O.M.R.) from FEMA as well as special approvals from Washington County to obtain compliance with the Washington County Sensitive Area Ordinance. Non-Tidal Wetlands located on site were placed in open space with no disturbance proposed. Fox prepared all necessary floodplain studies and reports necessary to obtain the above referenced approvals.
In addition, Fox prepared all subdivision plats and construction documents for construction of the community. The construction documents included application to the Maryland State Highway Access permits office for construction of the community's main entrance onto Route 68. This design included signage, striping and traffic control plans as well as a major watermain extension along Route 68 to the site. Also included were plans for minor road widening, vertical alignment improvements and required easements for Kendle Road.
Participants / Reference:
Elmwood Farm Development, LLC
Mr. Don Owens
218 North Church Street
Suite No. 1
Thurmont, MD 21788
301-271-3710
Download Project Description (PDF) »